For some bizarre reason, this season took 2 steps backwards from its greatness. Tonight's show was a mess. No one really grew or did anything remarkable. This, then, will be a very negative blog entry. I advice that you skip right on ahead to my prediction and reasoning. :D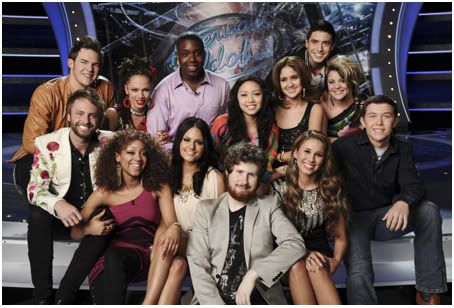 THE THEME: personal idols
THE CONTESTANTS:
Lauren Alaina
- Lacked energy, It's a fun song and she kind of just kept to herself. Stage felt small. Not as much control.
Casey Abrams
- The start on the stairs gave me chills. Perfect song choice but I miss his pretty singing. However, I really liked how nice and gritty it was.
Ashton Jones
- Completely wrong key. No impact, at all. Official Cannon Fodder material.
Paul McDonald
- bad sound. Slightly pitchy in parts. The dancing definitely made the performance a little weird. Him +Ryan = priceless though.
Pia Toscano
- Stunning. Was a little restrained in the body. Her feet were planted on the floor. Less control than usual but still great.
James Durbin
- Slayed it. Not completely clean but it was captivating enough to pull through. I am not hating him. :D
Haley Reinhart
- It was dull and boring. She could not do that yodel. Vocally, it was just ok.
Jacob Lusk
- The build up was a disaster. His oversinging is driving me insane. That run at the end sounded like a broken record. UGH.
Thia Megia
- nice and simple but not interesting. Start of karaoke-ish tracks on idol. WEIRD. Kind of meh.
Stefano Langone
- Again with the 'oke beats! I liked the "normal" parts. The dance thing was off to me. You don't do that to Stevie.
Karen Rodriquez
- i'm not sure what went wrong but it was all over the place.
Scotty McCreery
- He has to work on how cocky he looks when he performs but I'll say it again, he is always so spot on. Now, he needs to try an bring something new.
Naima Adedapo
- She dances! This is not a common idol talent, mind you. She was not singing that well though. Really bad.
THE JUDGES:
Steven Tyler,
being young is not an excuse (regarding Thia).
Jennifer Lopez,
what do you mean that you didn't mind the pitchy??? This is a singing competition!
Randy Jackson,
I'vee agreed with you for the most part during this episode. GJ.
THE PREDICTIONS:
The people that will get through will do so, I believe, not because of their performance tonight but because of their following. The undoubtably safe are: Lauren, Casey, Paul, Pia, James and Scotty. I believe that Stefano and Thia will get by but ever so slightly. So we have Ashton, Haley, Jacob, Karen and Naima left. Jacob will unjustfully make it because people are insane and think that he's great. And the other one that will be safe will be Haley just because she was marginally better than the other three.
So my prediction for bottom 3 is Ashton, Karen and Naima with Ashton going home.
I believe that they wildcard-ed her in for diversity and the voters didn't like her to begin with so there.
Really disappointing night. Ugh. :|